teshnakamura
Generative Artist / Code Artist
Never Painting Painter
Drawing only by programming without drawing softwares nor photo retouching softwares.
LiveArtX Global 100
AI (Artificial Intelligence) is pretty much the best practice of modern humabeing.
They profit for human because they replace boring routine and also take over human's jobs.
AIs are living and are being enhanced to be convenient for human society.
Now I wonder that's what we've been dreaming?
Do AIs have to be convenient? Do they have to take over our human's roles?
If there were any artificial life that is living with no particular aim. it might be the ideal world.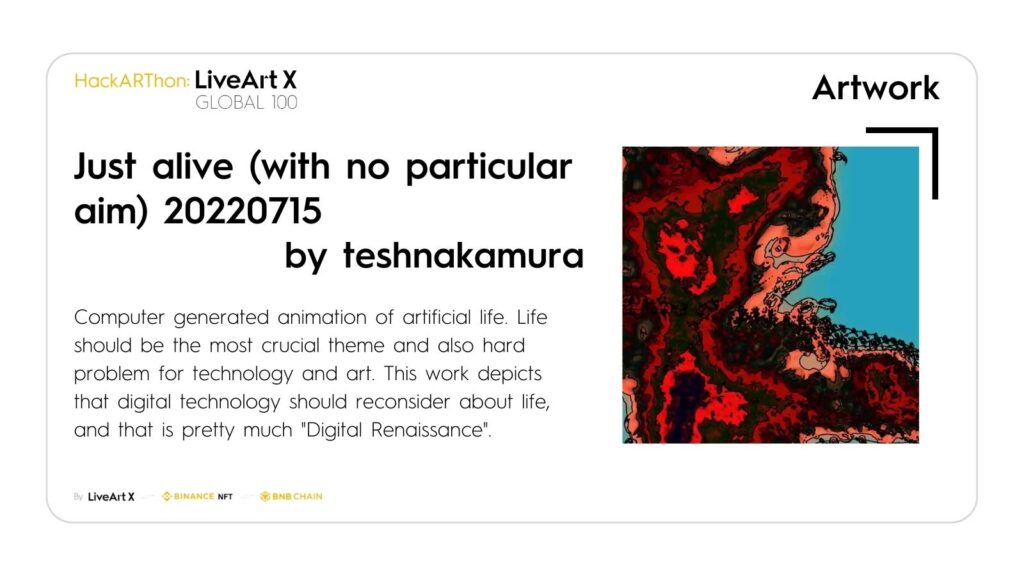 A Java program, which I coded, draws Asias (somethings self-organizing) all day automatically with random parameters, it takes around 10 mins for an Asia; about 140 Asias a day.
Some look pretty cool while others are boring. I choose "Asia of the day" in those 140 and post it on Instagram every day.
Cutting out one of my work into very small pieces and selling loose them as NFTs.
Collection of beasties generated by a computer program with random parameters.
Follow @teshnakamura on Instagram for daily uploaded works.